Lenovo ThinkPad T450s Ultrabook 14" FHD (1080p) - Intel Core i7-5600U @ 2.60 GHz (5th Gen), 16GB RAM, 512GB SSD (Solid State Drive), Windows 10 Pro | Grade A (Certified Refurbished) | 1 Year Warranty
$349.99

$349.99

Save

$250.00
---
---
Lenovo ThinkPad T450s Ultrabook: Slim Light Weight 
Quick Specs:
T450s Ultrabook - Slim Light Weight
Intel Core i7-5600U 2.6GHz (5th Generation Processor)
16GB DDR3L PC3-12800 (1600 MHz) 
512GB SSD Solid State Drive 
14.1'' FHD (1920x1080p) LED IPS [In-Plane Switching] SCREEN 
Windows 10 Pro x64
Intel Wireless 802.11agn + 1GB Ethernet 
Webcam + Back-lit Keys + Bluetooth
Grade A (Certified Refurbished)
1 Year Warranty 
Quick Overview
Overview  
Intel Core i7-5600U 

5th Gen

 

(2.6Ghz up to 3.2GHz), 

16GB RAM

, 512GB SSD Hard Drive, 14.1in FHD 1920x1080p LED Screen, intel HD Graphics, Intel 802.11AC dual band wireless, Bluetooth, 1Gb Ethernet, Finger print reader, UltraNav, Webcam,2X 3 Cell Battery, Win10 Pro 64, - Grade A Certified Refurbished, 1 Year Warranty

Our thinnest and lightest T Series Ultrabook is also our best-selling ThinkPad in North America. Slim as it may be, the T450s maintains its rugged nature, and also reintroduces some ThinkPad fan favorites such as the three-button TrackPad.
Product Details
Everything about the ThinkPad T450s is designed to simplify your life. It will handle any task with ease, thanks to powerful processing and integrated HD graphics. Preloaded with Windows 10 Professional, you'll have the personal assistance of Cortana, designed to help open apps and answer your questions - whether typed or spoken. From the new streamlined design to a cleaner desktop interface, you'll enjoy the simplicity the IdeaPad T450s offers.
14-inch LED display with 1920 x 1080 screen resolution

2.6 GHz Intel Core i7-5600U processor (4 MB L2 cache)

16GB DDR3L RAM system memory

512 GB Solid State Drive storage

Windows 10 Professional operating system pre-installed

Intel HD 5500 graphics

WiFi, Bluetooth connectivity

Ports: 3 x USB 3.0, 1 x RJ-45, 1 x Headphone/Microphone-combo, DisplayPort, Multi-format SD Media Card Reader

3-Cell Lithium-ion battery with Up to 1.5 Hour run time

Dimensions: 5.51"H x 19.29"W x 15.75"D, 4.02 lb.

1 Year Warranty (Parts & Labor) 

Grade A Refurbished - Look at photo for conditions
Conditions & Photos
Grade A (Certified Refurbished)   9/10 
Cosmetics: No Dents or Cracks (Like New) 
Screen is 100% Perfect , no dead pixels or spotting 
Keyboard & Mouse look Brand new 
Actual photo of Inventory Below
Additional Information 
ThinkPad T450s solid and upgraded design
The ThinkPad T450s is an upgraded version of the elder T440s with a thin and light design, high quality, durable design and a significantly upgraded configuration. With the original design imbued with the characteristics of its predecessors, it brings youthfulness and dynamism. Lapvip will provide information to readers below.
The ThinkPad T450s has a classy and sophisticated design
Lenovo ThinkPad T450s gives users a feeling of using a superior laptop compared to competitors in the same segment. The highlight of the T450s is carbon and magnesium construction, lightweight but very sturdy, high contrast screen and keyboard for very good typing.
The design of the T450s is still in the traditional style of the ThinkPad line , compared to the T440s it is no different, but compared to the older T series generations, the high-end feel appears as soon as you hold the device in your hand.
The T450s is an Ultrabook, weighing about 1.7 kg and in order to keep it light while ensuring the MIL-SPEC durability standard, Lenovo used carbon fiber material for the lid and magnesium alloy for the body. .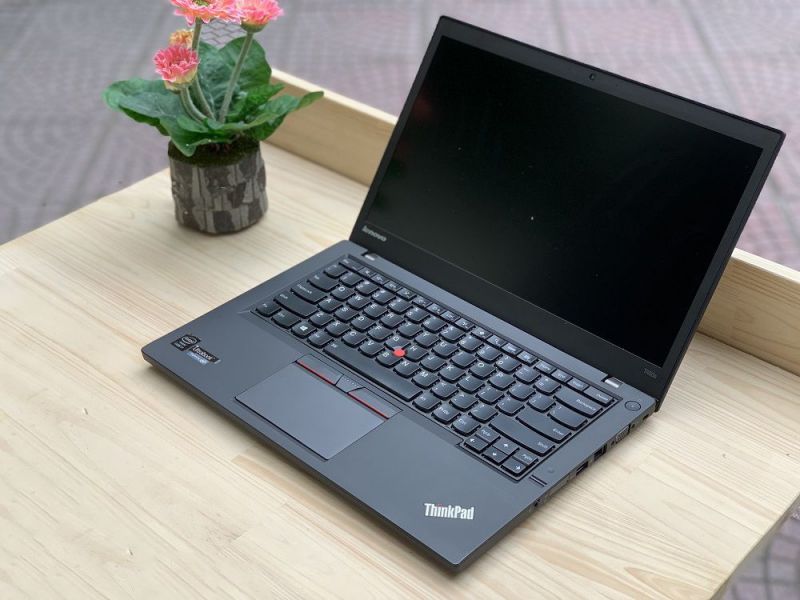 The ThinkPad T450s is rugged and dynamic
With a rectangular shape, black lid, the machine feels quiet but luxurious. Red TrackPoint points and red striped keys create more accents for the device. The hinge part of the ThinkPad T450s is made of stainless steel for up to 30,000 times of folding. The flexible hinge design allows the screen to be opened to an angle of about 180 degrees.
The ThinkPad T450s keyboard offers a smooth experience
If comfortable typing is important to you, look no further than the  Thinkpad T450s . This is the product with the best keyboard among the ThinkPad models.
With a size between the keys of 1.9mm and a need for 63 grams of force to act on the keys, the keys of the machine feel strong, making typing accurate, without the phenomenon of key flex.
Right below the keyboard is a very high quality glass-covered multi-point touchpad , similar to the touchpad on high-end HP, Dell and MacBook models. This touchpad is quite large, supports multi-points and due to the glass-covered surface, the contact feeling is better, no fingerprints, smoother operation.
The ThinkPad T450s is designed with a ClickPad-style touchpad, so the 2 mouse keys are integrated under the touchpad, the design is quite modern to support working faster than ever.
In addition to the touchpad, the highlight of the ThinkPad line is the TrackPoint knob. It is still located between the familiar G and H key clusters, still red and has 3 standard mouse keys.
Experience with Lenovo ThinkPad T450s
ThinkPad T450s multipoint connection port
Although the device is only about 2.1 cm thin, Lenovo is still equipped with quite a standard connection port without using an adapter so that users can use all the features and present work content.
The left side respectively: charging port, USB 3.0 port, Mini DisplayPort port, USB 3.0 port, Smartcard slot.
On the right side of the device is the location of: 3.5mm headphone jack, card reader, SIM slot, USB 3.0, LAN port, VGA port and Kensington lock.
The ports are clearly visible and easy to connect, showing their own functions. Thus, it is also very easy for you to realize the functions, tasks and roles of the ports.
The display is sharp
T450s is equipped with a 14" screen with 2 options 1 is non-touch anti-glare matte, 2 is glossy touch.The current model is a non-touch version, with Full HD 1920 x 1080 resolution providing images. sharp, realistic photos.
The screen can produce 94% of the sRGB color gamut which means it can render significantly more color than the average laptop (76.6%), Carbon X1 (86%) and Macbook Pro (91%) . Its colors are relatively accurate with an e Delta error rate of 3.9.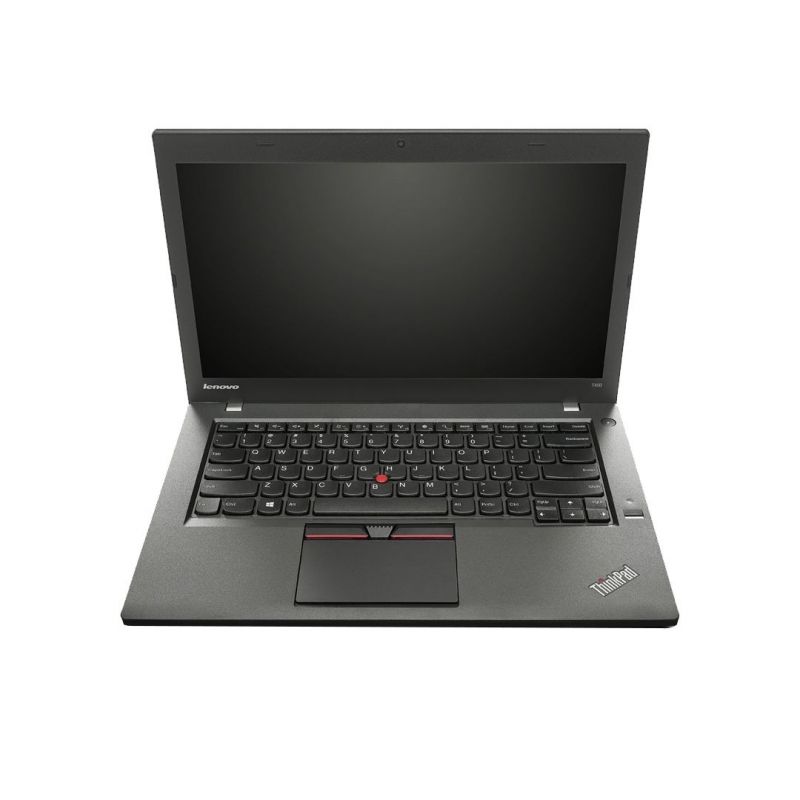 ThinkPad T450s sharp screen
The first impression is that the screen has very good contrast, the dark and bright colors are displayed very clearly, eye-catching, and the black is as deep as the AMOLED screen on the phone.
This screen has Full HD resolution with 14" size, this resolution gives high detail, pixel density is about 157 ppi. The screen panel is IPS for wide viewing angle and brightness. The screen according to my perception is about 240 - 260 nit, moderate and very suitable for long use.
The performance that the ThinkPad T450s brings
With 2.3GHz Intel Core i7 -5600U core, 8GB RAM and 240GB SSD memory, the hardware configuration of the T450s is really powerful to handle office tasks well.
Thanks to the 240GB SSD memory, the T450s completed the data conversion test in just 34 seconds. That equates to a processing speed of 149.7 MBps, about 40% more than the 104.2MBps average.
Designed for office use, the ThinkPad T450s took just 4 minutes and 41 seconds to complete a large spreadsheet test, which involved matching 20,000 names to their addresses in OpenOffice Calc. This time is faster than the average time of 5 minutes 41 seconds and 33 seconds faster than the T440s (5 minutes 14 seconds).
Although no one will mistake the ThinkPad T450s as a gaming laptop, thanks to the graphics card that comes with the Intel HD Graphic 5500M machine, it is powerful enough to fight hot games like LOL, FiFa, ..., besides the machine also has can do well with the heavy graphics software on the market today.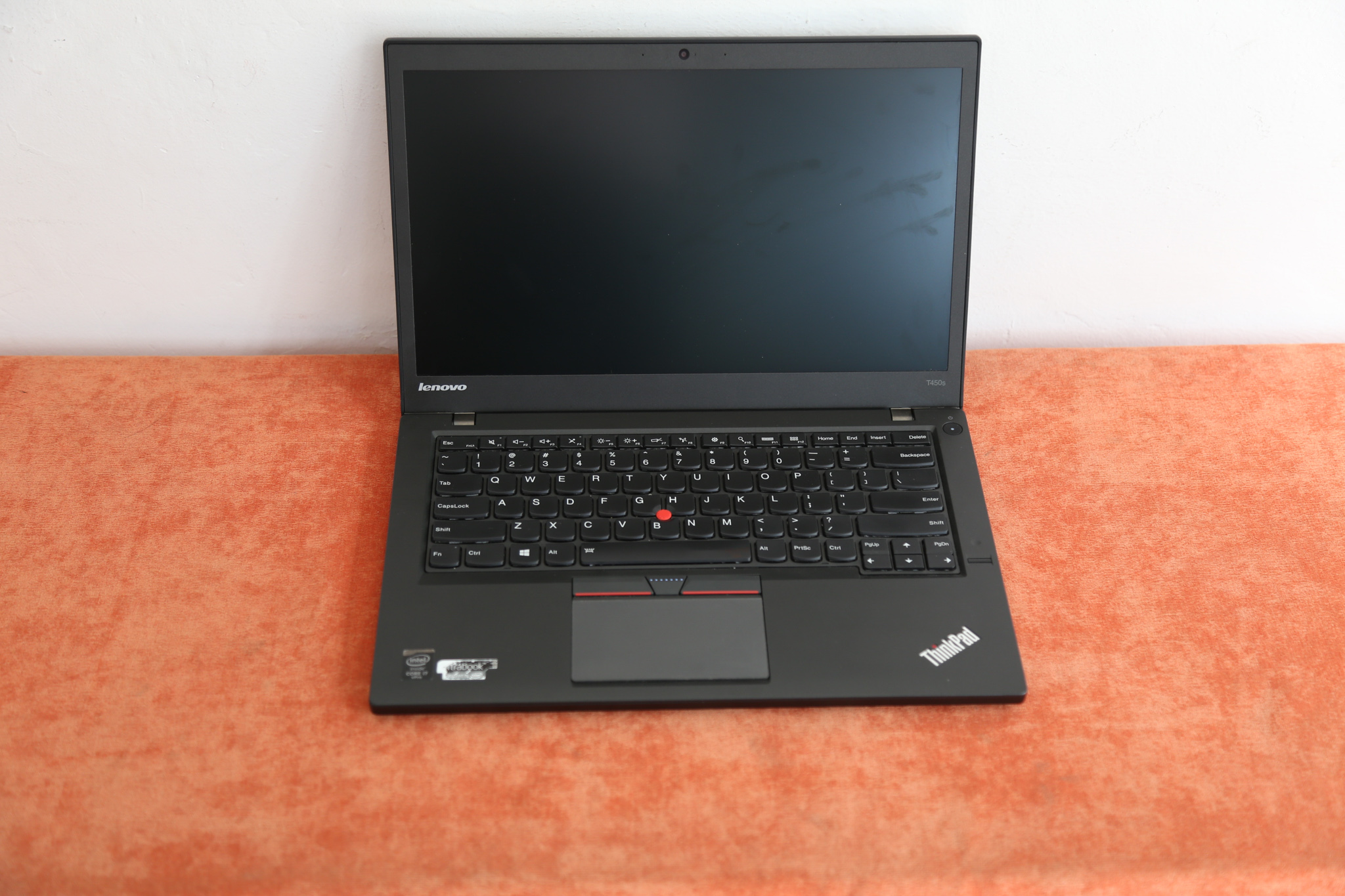 High-performance ThinkPad T450s
The interesting thing on this machine is that Lenovo has integrated a lot of things, such as RAM, there is 4 GB mounted on the motherboard, there is 1 upgradeable slot and the battery also has half the built-in capacity, removable part. left is the other half. Perhaps integrating this half into the machine helps the T450s keep its compact size, but the upgrade or replacement will be more or less limited.
Extended battery life
Instead of installing a large battery, the ThinkPad T450 is equipped with 2 3 Cell batteries, a removable battery and 1 internal battery. Meet the needs of using the device for a long time, up to 9 hours on 1 charge.
In addition, Lenovo also has Battery management software and modes to best extend the battery life.
Thus, it can be seen that the  ThinkPad T450s brings interesting experiences to users. Besides, the price is very affordable, suitable for students or office workers. Coming to Lapvip, you not only receive a quality computer but also a very favorable price.
---
We Also Recommend