Lenovo ThinkPad T430 Laptop Intel Core i5-3320m 2.6GHz, 4GB RAM 320GB Windows 10 x64 Pro | IBM Certified Refurbished
Lenovo
Regular price $339.99 $299.99 Sale

Quick Overview
intel Core i5  3320M 2600Mhz, 8GB, 320gb HDD 7200rpm, 14" Wide 1366x768, intel HD, DVD, 10/1000 Network, Wireless AGN,, Camera, Win 7 pro 64bit, Refurbished Aminus - 1 Year

Offering Lenovo's finest laptop with blend of power and performance for business professionals. the lenovo T430 is outfited with 3rd generation core i processores with turbo boost.
Lenovo ThinkPad T430
Refurbished Lenovo ThinkPad T430 Laptop in Toronto GTA Canada - Providing Authorized Microsoft Refurbished products. 
Great value ThinkPad and affordable for any office or home use.
Intel Core i5 3320m 2.6GHz, 4GB DDR3 RAM 1600 MHz, 320GB Hard Drive (HDD), Windows 10 x64 Professional - IBM CERTIFIED REFURBISHED
Overview
Whether you're on a business trip or doing some work from home, the Lenovo ThinkPad T430 laptop has your back. Powered by an Intel Core i5 processor and 4GB RAM, it features a 320GB hard drive, 14" Screen and numerous connectivity options including built-in Wi-Fi and Bluetooth to keep you productive and connected wherever you go.
enhanced features for better, round-the-clock performance
Intel Core i5 3320M processor at 2.6 GHz (3rd Generation Intel Core i5)

14.1" Anti Glare LED 1366x768 Wide screen

Intel HD 4000 Graphic

8GB of DDR3 Memory Upgradable to 16GB

320GB 7200RPM SATA Hard Drive

Integrated DVD Drive

Integrated wireless N

Integrated improved 2 MP Camera

Water Resistant New Style Keyboard

Metal frame and hinges for extra durability

Dual Pointing Device with multitouch Touchpad

Speakers & Dual Digital Microphone

Display and Docking Ports

6 Cell lithium Ion Battery and international Power Adapter

Refurbished with 1 Year Parts & Labor Warranty

Windows 7 Professional 64 bit
Introducing Lenovo's finest laptop with the blend of power and performance for business professionals. The Lenovo ThinkPad T430 is outfitted with 3rd generation Intel® Core™ standard voltage processors with Turbo Boost+, leading to high performance. Experience stunning visuals with integrated Intel® HD graphics. Improve battery life alongside graphics performance using NVIDIA® OptimusTM technology. Gain up to 30 hours of battery life with the 9-cell and slice batteries, to blaze through long business hours.
HD and HD+ display options, dual-array HD microphones with automatic optimization, 720p HD camera with face tracking, new conference and private Internet microphone call settings combine high-definition features that will add spark to your presentations. Altogether, the ThinkPad T430 offers performance, durability, mobility, longevity, and security − delivering an indispensable business tool for today's enterprise professionals.
Built for Performance


The ThinkPad T430 is built with:
Smart multitasking, smart performance 3rd generation Intel® Core™ standard voltage processors

Added processor performance with an instinctive burst of speed using Turbo Boost+ technology

Superior display and 3D experiences with up to 60% graphics performance improvement with Intel® HD Graphics

Incredibly long battery life, up to 30 hours with 9-cell and additional slice battery keeps the notebook running longer
Improved Multimedia & Communications
14" HD and HD+ display options offer wider and brighter visuals

720p HD camera to record high-definition video with face tracking for progressive video conferences

Dual-array HD microphones with automatic optimization for clearer voice chats

New Conference and Private Internet microphone call settings for best audio quality

Dolby® Advanced Audio 2.0 for vibrant surround sound and exceptional audio quality
Better User Experience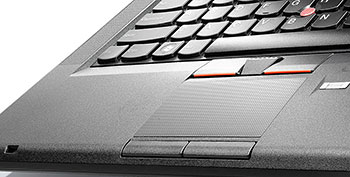 Enriched typing comfort with the new ergonomically designed precision island-style six-row keyboard
Easy-to-use multimedia keys including microphone and speaker mute buttons with LED Indicators
Exceptional cooling and ultra-quiet performance with the dualvent cooler and quiet thermal design
Uncompromised Connectivity & Reliability
Lenovo Rapid Boot, Rapid Connect, and Rapid Resume to perform tasks faster with minimal disruption

USB 3.0, Mini Display Port with audio, VGA, 4-in-1 SD card reader add to data connectivity

High data transfer rate with a maximum transmission speed of up to 5 Gb/s using USB 3.0

Streamlined IT management with asset tagging, imaging, and accidental damage protection
LENOVO ENHANCED EXPERIENCE 3 FOR WINDOWS® 7.
Optimizes data security with robust features like:
Self-encrypting drives that protect data on the hard drive in case of loss or theft

Hardware Password Manager for central security management of self-encrypting drives

Built-in Fingerprint Reader1 to switch on the laptop and log on in one swipe

BIOS Port Lock to disable all input and output ports remotely without any additional hardware

USB Blocker2 to identify and block different types of USB devices connected to the system Provides superior web conferencing with:

Keystroke noise suppression, high-quality webcam, and superior dual digital array microphone
More Information
2.60GHz Intel Core i5 3320M dual-core processor with 4GB of RAM deliver solid and reliable performance for effortless everyday computing and more
320GB hard drive stores all your favourite media files so your travel photos and classic rock collection are just a click away
Built-in 802.11n Wi-Fi allows you to wirelessly connect to your home network or Wi-Fi hotspot
10/100/1000 Ethernet port offers a reliable, wired connection to the internet via a LAN for even faster potential upload and download speeds
Integrated Bluetooth 4.0 lets you easily pair with Bluetooth-enabled devices like smartphones, printers, and speakers for a hassle-free wireless experience
Two USB 3.0 ports offer blazing-fast data transfer speeds with your USB 3.0 devices
Other connectivity options include a VGA output, two USB 2.0 ports, Mini DisplayPort, and a microphone input
Features a precision island keyboard with improved ergonomic design
Equipped with a built-in memory card reader so you can easily transfer videos and photos from your camera
Preloaded with Windows 10 Professional (64 Bit)
| | |
| --- | --- |
| SKU | T430-3320M-4-320-13x7-cam-7pro-A+1Y |
| Available in Showroom | yes |
| Specs | Lenovo Thinkpad T430 |
| Processore | intel Core i5 |
| Processor Model | 3320M |
| CPU Clock Speed | 2.6GHz |
| CPU Turbo Speed | No |
| CPU Benchmark by PassMark | No |
| Color | Black |
| screen size | 14 inch wide |
| screen resolution | 1366x768 |
| Graphics | Shared |
| Graphic card model | intel HD Graphics |
| Dedicated Graphics memory | 32mb |
| Memory | 4GB |
| Memory Type | DDR3 |
| Storage | 320gb |
| Hard Drive Type | SATA 7200rpm |
| Optical Drive | DVD |
| Optical Drive Type | Internal |
| Wireless Lan | Wireless N |
| Bluetooth | No |
| Ports | 2 USB 2.0, Audio in/out port, Display Port, USB 3 |
| HDMI | display port |
| Keyboard | English US |
| Backlit Keyboard | NO |
| Camera | Yes |
| Security | N/A |
| Power Adaptor | international 110 and 220V |
| Battery | 6 Cel |
| Operating System | Windows 7 Pro 64bit |
| Software | Windows 7 Professional 64-bit Edition + LICENCE (Preinstalled CLEAN OS ONLY) |
| Weight | 4 - 5 lbs |
| Dimensions | No |
| Condition | Refurbished A + |
| Warranty | 1 year (Refurbished Laptops Canada) |
| Warranty Type | All Parts and Labor including Battery |
| Warranty Notes | No |
| Package Content | Laptop + Battery + Power cord |
| Condition Detail | No |