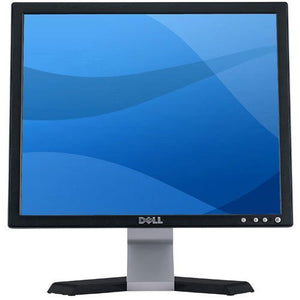 Dell PC Workstation 17" Computer Monitor - LCD Flat Panel Monitor / (E170-E176-E177-E178) TFT 1280 x 1024 resolution
$48.99

$48.99

Save

$31.00
---
---
The Dell PC Workstation 17" Monitor offers a brilliant LCD Flat Panel display and 1280 x 1024 TFT resolution. it's designed for maximum performance and productivity. The crisp colors and accurate imagery give you an enhanced viewing experience for work, leisure and entertainment.
Display 1280 x 1024 resolution Our 17" Dell PC Workstation Monitor provides crystal clear visuals with a 1280 x 1024 resolution LCD flat panel display and brilliant TFT image quality. Enjoy crisp, detailed images and easy-to-read text with 1280 x 1024 resolution, making this the perfect monitor for any workspace.
Description
17" Dell LCD Monitor E170/ E176 / E177 / E178 -----This Dell LCD monitor utilizes active-matrix screen that displays brilliant quality images and text. Fast 12ms response time of this Dell 17-inch monitor delivers excellent images in fast motion applications without ghosting or blurring. 17-inch TFT LCD Flat Panel Monitor! Key features include a 1280 x 1024 resolution, 0.264 mm pixel pitch, 300 cd/m2 brightness, 800:1 contrast ratio and a 5 ms response time! Simply hook it up to your computer's VGA port and view your text and documents with crisp, clear images! The adjustable screen of this Dell LCD monitor lets you swivel and tilt it according to your viewing needs. This LCD has a very nice sleek look. The anti-glare with hard coating 3H feature of this Dell 17-inch monitor allows clear viewing even under bright lighting conditions.
About this item
Features
Dell 17" LCD Monitor E170/ E176 / E177 / E178

Dell 17-inch TFT LCD Flat Panel Monitor General Features: Black design

300 cd/m2 brightness 500:1 contrast ratio 8 ms response time

Wall mountable (100 x 100 mm / 3.93-inches) 15-pin VGA

Power Specifications:100 - 240V, 50/60Hz, 1.5A
Product information
Manufacturer
Dell (Refurbished)
Manufacturer reference
RB-FPD-00E178-AA
Product Dimensions
38.1 x 15.2 x 38.1 cm; 2.7 Kg
Shipping Weight
6 Kg
ASIN
B001AZX3PS
Best Sellers Rank
29660
All computers & systems come with a FREE One Year Warranty. Batteries come with a limited 90 Day Warranty. For in-depth details please read the Warranty page.
Immaculate condition
Very satisfied with this product and easy transaction. Everything went smooth
---
We Also Recommend